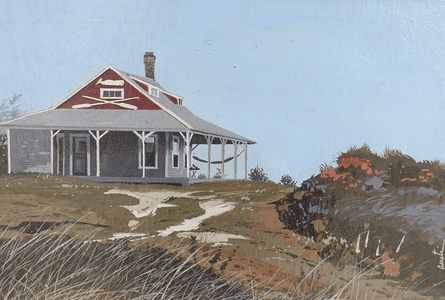 John Austin was a New Jersey native who lived in Connecticut before living year 'round as a Nantucket resident. He began drawing at a young age and while serving in the US Air Corps, he designed training manuals and did assignments for Life magazine.
After the war, he continued his art training Art Students League and studied with Reginald Marsh, Julian Levy, and Edward Hopper (an artist he is frequently compared to).
Once on Nantucket he became a full time artist and produced close to 100 paintings per year. In addition to painting the better known buildings and places of Nantucket, he also loved to paint the lesser appreciated parts of the island including; boats out of water, rusting cars in fields, solitary houses, winter scenes, and anything with peeling paint. His works are easily identifiable by the egg tempera medium and handmade black and white frames.
John Austin's paintings were shown in the Lobster Pot Gallery and later at the Main Street Gallery under Reggie Levine. I personally helped hang a John Austin show in the mid 80s when I had a summer job there as a gallery assistant. Most of his works sold for under $500 which made collecting them attainable for both summer and full time Nantucketers alike. Notable collectors include Jaqueline Kennedy Onassis, Bunny Mellon, and Cecelia & Seward Johnson.