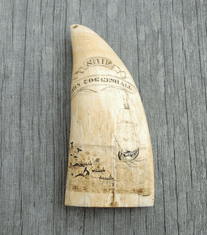 Antique Scrimshaw Sperm Whale Tooth - Ship John Coggeshall with Whaling Scene by Albro.
SKU:PMAALBRO
Antique Sperm whale tooth attributed to one of the Albro brothers of the ship John Coggeshall. Whaling scenes on both sides. Hole at tip and initials "TB" at base. American mid 19th C. Measures 6-1/4" tall.
Known history: It was found in a horsehair hope chest belonging to Jane Bartholomew Porter who was a sea captain's wife in the 1860s. She was married to Captain Mortimer S. Porter. They both died at sea, she off of Ceylon in May 1867 and he off of Australia in 1872. Tooth has remained in the family ever since.
SOLD
---
We Also Recommend