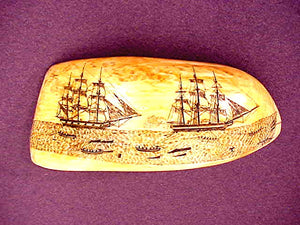 The Mt. Vernon Tooth by "The Mount Vernon Engraver"
SKU:mtvernontooth
We recently purchased for a client a really great antique scrimshaw tooth. This large tooth will be known as the Mt. Vernon tooth and the maker as "The Mt.Vernon Engraver".
On one side is an elaborately engraved whaling hunt with two large whaleships on the horizon and six whaleboats actively harpooning a pod of 16 sperm whales. How boldly the artist depicted the scene - one of the best! The reverse side is deeply engraved with a magnificent view of Mt. Vernon with a top-hatted gentleman in the foreground with his dog and horse. The workmanship is exquiste with very confidant lines. It is very rare to see this view depicted on scrimshaw. This tooth is one of the very best that has turned up in the last few years.
American origin circa 1840. 7.25 inches long. Beautiful rich patina.
SOLD
---
We Also Recommend